Ad blocker interference detected!
Wikia is a free-to-use site that makes money from advertising. We have a modified experience for viewers using ad blockers

Wikia is not accessible if you've made further modifications. Remove the custom ad blocker rule(s) and the page will load as expected.
Synopsis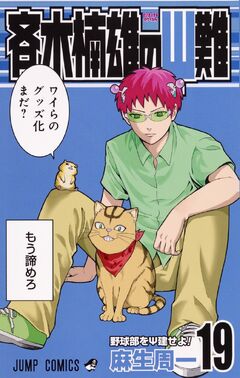 Saiki Kusuo no Psi-nan
(斉木楠雄のΨ難 Saiki Kusuo no Sainan, lit. "The Disaster of Psi Kusuo Saiki")
is a Japanese gag manga series written and illustrated by Shūichi Asō. Individual chapters have been serialized in Weekly Shōnen Jump since June 2012. The chapters are collected into tankōbon volumes published by Shueisha. As of April 2016, there are 17 volumes released. A television anime adaptation by J.C. Staff and EGG FIRM will begin airing on July 4, 2016.
---
Born with innate supernatural power,
Saiki Kusuo
seems to have his life easy. He possess various ESP ability including telepathy and psychokinesis among others allowing him to get anything he wants. During kindergarten, he incidentally caught media attention after rumors of how he never loses any janken match against his friends and teacher spread around town. The incident made him came to the resolve of not using his power in front of others ever again so people will not find out that he is a psychic. But upon being a high school sophomore, with all hi-jinks that ensue, Kusuo is slowly cutting his resolve loose.
Characters
Polls
Which character is your favourite?
Which of Kusuo's Powers would you like to have?
Did You Know?

Kusuo's female transformation was first named as Kusuko but he later changed it to Kuriko to lessen the chance of other finding out its him.


Kusuke, Kusuo's older brother is a genius with an IQ OF 218.


It was hinted that Kaidou may realize that Kokomi have feelings for Kusuo when he baited Kusuo's name just to make Kokomi come with them at the cruise ship.


Aren used to be a delinquent in his former school and only Kusuo and Kaidou know this.


Anpu's name is a pun on Anpusi (Animal-Psi) the ability to psychically communicate with animals.
Featured Articles
Kokominzu (ここみんズ)

A cult or preferably called the fanclub of Teruhashi. The scale of this fanclub is not only within the PK Academy but also students of other schools.READ MORE...</div>

PK Academy

A private high school where the main protagonist, Saiki Kusuo and his circle of friends attends. In total, it has 542 students of which only two students knows that Kusuo has Psi powers.READ MORE...
Affiliates
To affiliate with this wiki, follow the procedures here for a request.
Featured Character
Saiko Metori
He is the scion of the top-notch Saiko Conglomerate who later transfers to PK Academy up falling in love with Kokomi when he was in the city. His defining traits are being rich and smug.
Featured Covers

Aren: If you're bored, let's "FIGHT"
Saiki: If you're bored, read this "MANGA"
Contribute to the Wiki!
Our wiki content is getting vast with the growing popularity of the Saiki Kusuo no Sai Nan Wikia. We would love to have more hands in updating and content management. Your contributions are always welcome.
Wiki Projects:
Not sure how to begin?

If you see a grammatical/spelling mistake or a misleading information, feel free to get stuck in and correct it for us! We would really appreciate your contribution. Saiki Kusuo no Sai Nan is a great manga and it would be really nice if you could help us prove that to everyone! The greatest way to start off is to join our community.

If you would like to add appropriate contents to a new separate page, feel free to create a new page! Mistakes can be reversed.

If you would like to suggest an article, category or other page that you think should be created but you don't feel you can create it yourself, describe what you want at our FORUM. Here you can also discuss the manga, characters and share your views/opinions with other Saiki Kusuo no Sai Nan fans like you.

Or if you would like to share something exclusive with us, write your own blog!
Latest Chapter and Episode
---
Saiki Kusuo no Sai Nan Wikia Twitter