Welcome

Manga Guide • Characters • Administrators • Recent Changes • New Photos • New Pages • Help Wiki
Welcome to the Saiki Kusuo No Ψ Nan Wiki, a Wiki dedicated to everything about the manga Saiki Kusuo No Ψ Nan that anyone can edit. Please help us by creating or editing any of our articles! To edit articles, you must login or register to wikia.
We currently have 1,152 edits to 71 articles and 307 images on this wiki.
Summary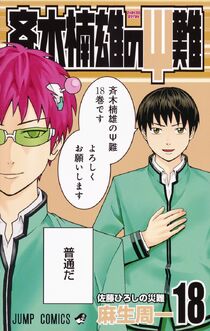 Saiki Kusuo no Psi-nan
(斉木楠雄のΨ難 Saiki Kusuo no Sainan, lit. "The Disaster of Psi Kusuo Saiki")
is a Japanese gag manga series written and illustrated by Shūichi Asō. Individual chapters have been serialized in Weekly Shōnen Jump since June 2012. The chapters are collected into tankōbon volumes published by Shueisha. As of April 2016, there are 17 volumes released. A television anime adaptation by J.C. Staff and EGG FIRM will begin airing on July 4, 2016.
Born with innate supernatural power, Saiki Kusuo seems to have his life easy. He possess various ESP ability including telepathy and psychokinesis among others allowing him to get anything he wants. During kindergarten, he incidentally caught media attention after rumors of how he never loses any janken match against his friends and teacher spread around town. The incident made him came to the resolve of not using his power in front of others ever again so people will not find out that he is a psychic. But upon being a high school sophomore, with all hi-jinks that ensue, Kusuo is slowly cutting his resolve loose.
Announcement(s)
This year's 32nd issue of Shueisha's Weekly Shonen Jump magazine revealed on Monday that Shūichi Asō's Saiki Kusuo no Psi Nan manga is getting a Nintendo 3DS game titled Saiki Kusuo no Psi Nan: Shijō Psi Dai no Psi Nan!?. Bandai Namco Entertainment is developing the psychic action game.

In the game, players will be able to use various superpowers such as telepathy, psychokinesis, and x-ray vision. The characters in the game will be in chibi form. On the game's official website the staff will take suggestions from fans regarding what kind of psychic abilities fans want in the game. Those whose ideas are chosen might also appear in the game.
Visit the official website now!
Click Me!
Characters
Episode 3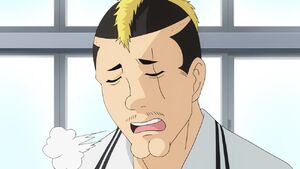 A New School Term Starts! The Melancholy of Nendou


On the first day of the new school term, Kusuo and Shun notice that Riki is acting strange. Wanting to know what's up with him, they decide to follow him after school.
Read more...
Chapter 48: The State of Mera-san's PSInances!
---
Spoiler Alert! Read at your own risk!

---
Kusuo's class is going to karaoke and they kept asking everyone around. Chisato, a student with two tied hair was asked and rejected it due to some reason. Kokomi who then appeared was also asked but rejected the invitation also after learning that Kusuo isn't coming too which easily kills everyone's excitement. On Cafe Mami, Kusuo was waiting for his ordered Coffee Jelly. Upon seeing Kusuo, Mera Chisato, a working student suddenly sees him and in shock drops the coffee jelly she's holding. Scolded by her manager, she then quickly move to pick up the cleaning materials. Meanwhile Kusuo who used his psi powers to catch the coffee jelly before it fell, took the leisure of eating it. The reason for the sudden shock was because PK Academy forbids students to work. Apologizing to Kusuo because of what happened, Kusuo wasn't angry at all and instead told her good job and when she gave him two coffee jelly Kusuo called her goddess. She start to beg him not to Read more...
Featured Covers

My name is Saiki Kusuo.
I'm an Esper.
Featured Polls
Which character is your favourite?
External Links