Welcome to Saiki Kusuo no Psi Nan Wiki!

Manga Guide • Characters • Administrators • Recent Changes • New Photos • New Pages • Help Wiki
Welcome to the Saiki Kusuo no Ψ Nan, a Wiki dedicated to everything about the manga Saiki Kusuo No Ψ Nan that anyone can edit. Please help us by creating or editing any of our articles! To edit articles, you must login or register to wikia.
We currently have 6,273 edits to 378 articles and 764 images on this wiki.
Saiki Kusuo no Psi Nan
Saiki Kusuo no Psi-nan
(斉木楠雄のΨ難 Saiki Kusuo no Sainan, lit. "The Disaster of Psi Kusuo Saiki")
is a Japanese gag manga series written and illustrated by Shūichi Asō. Individual chapters have been serialized in Weekly Shōnen Jump since June 2012. The chapters are collected into tankōbon volumes published by Shueisha. As of December 31, 2016, there are 20 volumes released. A television anime adaptation by J.C. Staff and EGG FIRM aired last July 4, 2016. The series is being simulcast by Funimation, who began releasing an English dub from August 7, 2016.
---
Born with innate supernatural power,
Saiki Kusuo
seems to have his life easy. He possess various ESP ability including telepathy and psychokinesis among others allowing him to get anything he wants. During kindergarten, he incidentally caught media attention after rumors of how he never loses any janken match against his friends and teacher spread around town. The incident made him came to the resolve of not using his power in front of others ever again so people will not find out that he is a psychic. But upon being a high school sophomore, with all hi-jinks that ensue, Kusuo is slowly cutting his resolve loose.
Characters
Announcements
Saiki Kusuo no Psi Nan Live Action this 10/21/2017
00:31

Teaser The Disastrous Life of Saiki K Live Action Movie 2017

---

Saiki Kusuo

(Kento Yamazaki) is a 16-year-old high school student. He was born with psychic powers, but he hesitates using his super powers in front of other people due to a childhood experience. Kusuo now tries to keep a distance from others to hide his psychic power ability, but his classmates with distinct individuality gather under Kusuo. Can Kasuo keep his precious ordinary daily life?

»see other characters
Featured Articles
Dark Reunion

Dark Reunion is an organisation that is after Kaidou Shun who wanted to steal the "Black Beat" a dark force that dwells in the latter's right arm and create a new world with it. This is also why Shun always wears bandages on his hands, as he needs to "seal" that power. ⇒ READ MORE...

Eternal Diamond Veronica
Did You Know?

Kusuo's name is a pun on Psychic (サイキック Saikikku).


Teruhashi Kokomi's name is a pun on Telepathy?


Kusuo is scared of bugs and Nendou because he can't read their minds.


Aren's name is an anagram of clairvoyance "Kureaboyansu"?


Nakanishi Kouta aka Chouno Uryoku was married to Nendou Riki's mom in the past?
Polls
Which of Kusuo's Powers would you like to have?
Featured Volume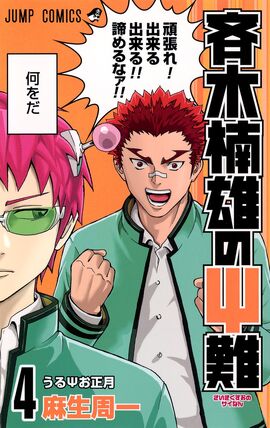 Hairo: Do your best! You can do it, I know you can! Never give up!!
Saiki: What are you talking about.
Featured Character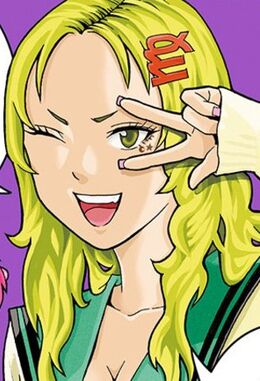 Aiura Mikoto
Aiura Mikoto is a soothsayer, also known as an oracle. She is another love-interest of Kusuo's and constantly fights with Reita. Due to her easy going personality, she seemed to have gotten the favor of Kusuo's grandmother, Kumi.
Latest Chapter/Episode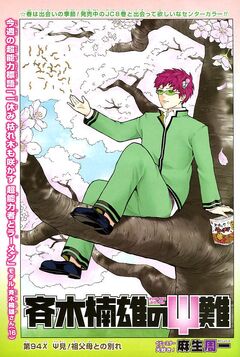 CHAPTER 94: PSIjian! Parting with the Grandparents
---
The "amazing" magician Uryoku Chouno has become popular and sends Saiki an invitation to his solo magic show. On a different occasion, the usual gang is planning to hold a surprise birthday party for Saiki.
Affiliations
To affiliate with this wiki, follow the procedures here for a request
.
External Websites
Social Media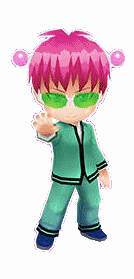 Ad blocker interference detected!
Wikia is a free-to-use site that makes money from advertising. We have a modified experience for viewers using ad blockers

Wikia is not accessible if you've made further modifications. Remove the custom ad blocker rule(s) and the page will load as expected.