Contribute to the Wiki!

This wiki is in need of chapter summaries!


Don't know where to start, check Volumes and Chapters
Synopsis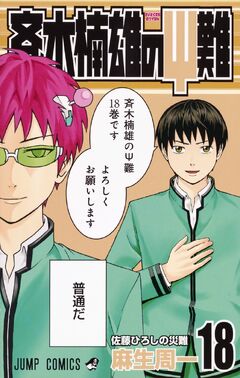 Saiki Kusuo no Psi-nan
(斉木楠雄のΨ難 Saiki Kusuo no Sainan, lit. "The Disaster of Psi Kusuo Saiki")
is a Japanese gag manga series written and illustrated by Shūichi Asō. Individual chapters have been serialized in Weekly Shōnen Jump since June 2012. The chapters are collected into tankōbon volumes published by Shueisha. As of April 2016, there are 17 volumes released. A television anime adaptation by J.C. Staff and EGG FIRM will begin airing on July 4, 2016.
---
Born with innate supernatural power,
Saiki Kusuo
seems to have his life easy. He possess various ESP ability including telepathy and psychokinesis among others allowing him to get anything he wants. During kindergarten, he incidentally caught media attention after rumors of how he never loses any janken match against his friends and teacher spread around town. The incident made him came to the resolve of not using his power in front of others ever again so people will not find out that he is a psychic. But upon being a high school sophomore, with all hi-jinks that ensue, Kusuo is slowly cutting his resolve loose.
Announcement(s)
Shūichi Asō's Saiki Kusuo no Psi Nan manga is getting a Nintendo 3DS game titled Saiki Kusuo no Psi Nan: Shijō Psi Dai no Psi Nan!?. Bandai Namco Entertainment is developing the psychic action game. In the game, players will be able to use various superpowers such as telepathy, psychokinesis, and x-ray vision. The characters in the game will be in chibi form.
Characters
Latest Chapter and Episode
Did You Know?

Kusuo's name is a pun on Psychic (サイキック Saikikku).


Teruhashi Kokomi's name is a pun on Telepathy?


Kusuo is scared of bugs and Nendou because he can't read their minds.


Aren's name is an anagram of clairvoyance "Kureaboyansu"?


Nakanishi Kouta aka Chouno Uryoku was married to Nendou Riki's mom in the past?
Featured Articles
Kokominzu (ここみんズ)

A cult or preferably called the fanclub of Teruhashi. The scale of this fanclub is not only within the PK Academy but also students of other schools.READ MORE...</div>

PK Academy

A private high school where the main protagonist, Saiki Kusuo and his circle of friends attends. In total, it has 542 students of which only two students knows that Kusuo has Psi powers.READ MORE...
Affiliates




To affiliate with this wiki, message the admin for a request.
Featured Character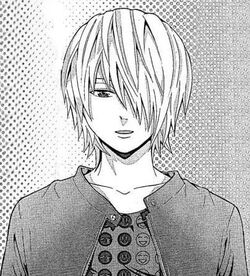 Saiki Kusuke
He is Kusuo's elder brother, a super genius who likes to invent machines/devices. He is 2 years older than Kusuo.
Featured Covers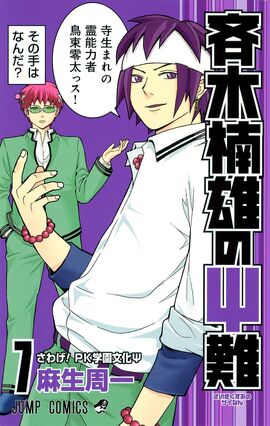 Reita: I'm the Spirit Medium who was born in a temple, Toritsuka Reita!
Saiki: What's with that hand?
Polls
Which character is your favourite?
Which of Kusuo's Powers would you like to have?
Featured Videos