Welcome to Saiki Kusuo no Psi Nan Wiki!

Manga Guide • Characters • Administrators • Recent Changes • New Photos • New Pages • Help Wiki
Welcome to the Saiki Kusuo no Ψ Nan, a Wiki dedicated to everything about the manga Saiki Kusuo No Ψ Nan that anyone can edit. Please help us by creating or editing any of our articles! To edit articles, you must login or register to wikia.
We currently have 1,885 edits to 168 articles and 352 images on this wiki.
Help us expand the Wiki

This wiki is in need of chapter summaries!


Don't know where to start, check Volumes and Chapters
Synopsis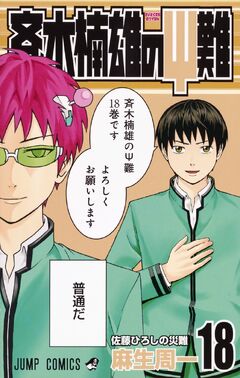 Saiki Kusuo no Psi-nan
(斉木楠雄のΨ難 Saiki Kusuo no Sainan, lit. "The Disaster of Psi Kusuo Saiki")
is a Japanese gag manga series written and illustrated by Shūichi Asō. Individual chapters have been serialized in Weekly Shōnen Jump since June 2012. The chapters are collected into tankōbon volumes published by Shueisha. As of April 2016, there are 17 volumes released. A television anime adaptation by J.C. Staff and EGG FIRM will begin airing on July 4, 2016.
Born with innate supernatural power,
Saiki Kusuo
seems to have his life easy. He possess various ESP ability including telepathy and psychokinesis among others allowing him to get anything he wants. During kindergarten, he incidentally caught media attention after rumors of how he never loses any janken match against his friends and teacher spread around town. The incident made him came to the resolve of not using his power in front of others ever again so people will not find out that he is a psychic. But upon being a high school sophomore, with all hi-jinks that ensue, Kusuo is slowly cutting his resolve loose.
News
"Kubo-sensei, you've worked hard for 15 years! I look forward to your next work!"
— Asou Shuuichi's comment on Kubo Tite's Bleach manga series end.
---
This year's 35th issue of Shueisha's Weekly Shonen Jump magazine revealed more details about the live-action film adaptation of Shūichi Asō's Saiki Kusuo no Psi Nan manga The film will star Kento Yamazaki (live-action Orange, Your Lie in April, One Week Friends films, live-action Death Note television series) as the titular character Kusuo Saiki, and Yūichi Fukuda (live-action HK/Hentai Kamen, Mr. Nietzsche in the Convenience Store, Gintama) is directing the film.
Shueisha originally announced the live-action film adaptation in June 2015, but hadn't revealed more details about the project until now.
The manga inspired an ongoing anime series that started airing within the Oha-Suta ("Good Morning Star") program on July 4. The anime airs five episodes each week inside that program, and then a light-night broadcast collects those five episodes and airs them together. Source:
Anime News Network
Characters
Latest Chapter
Chapter 53: Fly! Cyborg Sodaman Mark II
---
Spoiler Alert! Read at your own risk!
---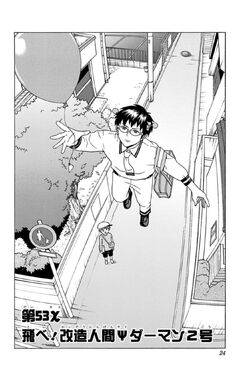 Kusuo, as a part of the cover jumped higher than of a normal human to catch a balloon for a kid he met upon walking home. However, after giving the balloon back to the kid, Iridatsu Yuuta seems to have taken a liking to Kusuo and wouldn't let go much to his demise. Read more...
Latest Episode
The Scariest! Mr. Matsuzaki

Many students at Saiki's school can't stand Mr. Matsuzaki, their PE teacher. When he confiscates some of their things, a group of students decides to get back at him.
Read more...
Did You Know?

Kusuo has been following Satou because of his 'normal-ness'.


Mikoto's is actually a pun on "Ai Uramikoto" which is something along the lines of "love complaints" or maybe "love resent".


Hairo's name is pun on Pyrokinesis.


Kaidou used to be a nerd and have his hair down, covering his face with his bangs and wearing glasses that covers almost half his face?


Kusuocan even hear people's thoughts on the TV if he really wanted to?
Wikis Affiliated


To affiliate with this wiki, message the admin for a request.