Kineshi Hairo (灰呂 杵志 Hairo Kineshi) is Kusuo's classmate and the class representative of class 2-∭. Due to his kindness and leadership, he's well-trusted by his classmates.
Appearance
Kineshi sports a spiky maroon hair,weird eyebrows and usually has a band aid on top of nose. He usually rolls up the sleeves of uniform as he mostly does exercise on school corridors.
Personality
Kineshi can pretty much be defined by three characteristics: Being hot-blooded and energetic, his obsession with tennis, and having his pants always falling down. He is very reliable and is always looking after others or trying to do the right thing. There are times he gets too fired up but in the end, he's still nice to everyone, even to Kusuo 's little group of outcast friends.
Background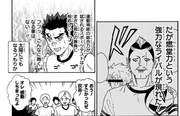 Kineshi also hangs out with Kusuo and his friends occasionally, but not as frequently as
Riki
,
Shun
, or
Aren
. At some point, he starts to one-sidedly consider Riki as his rival, thus constantly challenging him to all sorts of sporty challenges (Although Riki usually wins).
Kineshi is one of the more normal, reasonable characters in the manga, although he still has a few areas where he lacks in common sense like not being able to cook/failing to cook. However, even though he's weird and fired up all the time Kineshi is still really popular with all the other kids in class. Kineshi was once thought to be gay by Aren and Shun,[1] although it's more likely that he doesn't have any thoughts about love.
History
TBA
Quotes
Trivia
His name is a pun on the word Pyrokinesis.
His guardian spirit is a highly enthusiastic tennis player.
His favorite sport is tennis.
He is so enthusiastic that he frequently inspires his classmates to become enthusiastic as well.
References
Ad blocker interference detected!
Wikia is a free-to-use site that makes money from advertising. We have a modified experience for viewers using ad blockers

Wikia is not accessible if you've made further modifications. Remove the custom ad blocker rule(s) and the page will load as expected.