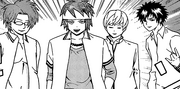 Toritsuka, Shinoda, Takayuki and Shinya formed the band Eternal Diamond Veronica for the school festival. Their main reason for creating the band is to be popular among the women, but without the knowledge of using musical instruments. Toritsuka really wanted to play so he seeked Kusuo for help.(Toritsuka was assuming that using telepathy, he and his friends could play), and was conceited that the four didn't practice at all until the day of their performance. Although it ended in terrible consequences, it was still a fitting victory for Toritsuka who was possessed by John Komatsu who he in the summoned when he sang.
Gallery
Ad blocker interference detected!
Wikia is a free-to-use site that makes money from advertising. We have a modified experience for viewers using ad blockers

Wikia is not accessible if you've made further modifications. Remove the custom ad blocker rule(s) and the page will load as expected.